Finding the right professional to handle your plumbing jobs can be a real job on its own. Many times, those who portray themselves as professional plumbers end up doing a shabby job. And then the thought hits you, cant you even do this yourself? Well, you can. And that is why Tile and Bath Co-created this article to help you figure it out. We will start with how you can efficiently remove and replace your worn-out kitchen tapware.
This article is not meant to downplay the job of a professional plumber. Instead, it creates an alternative to getting the job done through a DIY approach. Moreover, you cannot execute all tasks with the DIY system; eventually, you may still need a professional plumber for some functions. However, replacing your old worn-out tapware may be one of such tasks that you can do yourself. This article will guide you on a stepwise method of executing the job.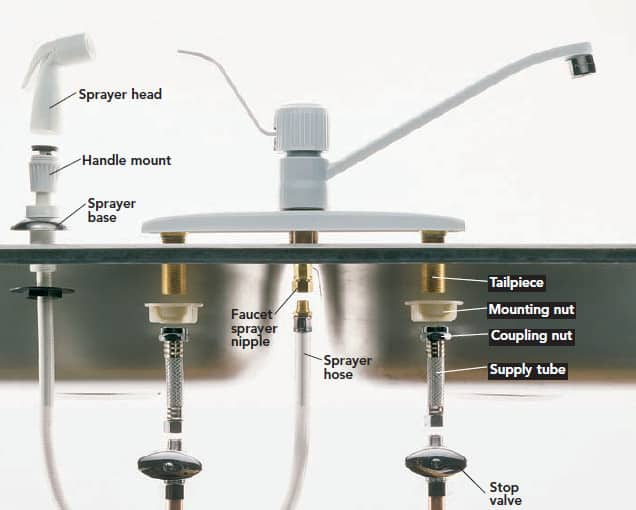 However, kindly note that you should first prepare by doing your homework as easy as the job is. Identify all the tools that we would recommend and use them rather than improvising. You will find fantastic help through this article, but you must be careful to follow it through. Let us first consider some of the core tools that you need to replace kitchen tapware.
Essential Tools you need to replace your kitchen tapware
When you finally decide to fix your kitchen tapware by yourself, specific tools have to be handy. For instance, if you do not have any of the devices with their specified sizes at hand, you may first have to get to the nearest store to buy them. Some are cheap while others are not. Meanwhile, if you have a friendly neighbor, depending on your relationship, you may also borrow the common ones, such as the plier or adjustable wrench. Here is the list
Open-ended spanners
Adjustable wrench
A-Basin wrench
Washing bowl
Pipe cutter
Compression fittings or check valves
Slotted screwdriver
Hacksaw or olive splitter
A cleaning cloth
Adjustable Pliers
Towel
PTFE tape
Back nut box spanner
Limescale remover
Masking tape
Joining compound
vBox spanner or ratchet
Pen
Note that professional plumbers use other tools apart from the tools above. Nevertheless, we only include the ones above that are useful for the task, which is replacing your tapware. Now, let us delve deeper.
4 Steps to remove your kitchen Tapware
People often like to use the space under the sink to store certain items in the home. If you are one of them, it is time to remove any item around that area to create more space. Creating space is also essential to access the pipe connectors. Click here to read about How to Pick the Best Statement Tapware for Bathroom Transformation.
Step 1 – Turn off the Water supply
The first step is to cut off the water supply to the zone where you are about to work. First, you need to locate the isolating valve that leads to the pipe supply to the tapware. At times, it is directly on the hoses' output. Moreover, if you cannot find it, go to your primary water supply source and turn off the valve for now. Turn the valve a quarter way to stop water from keeping on flowing. Check the tap if the water has stopped flowing. When sure, proceed to the next step.
Step 2 – Prepare the area of work
Spread out a towel on the floor under the sink and lay down all the tools you plan to use. If you have the old kitchen tap manual, you may need it in the disconnection. In addition, if there is anyone around who can help you pick one or two things from the line of tools, you should call them.
Step 3 – Disconnect the tap from the main water supply
Water pipe connections come in two ways; standard and flexible ones. The traditional hose system requires you to loosen up the connecting screw that joins the two ends of the pipe. An open-handed spanner will execute the job. And prepare that some residual water can come out as you disconnect. On the other hand, a flexible …